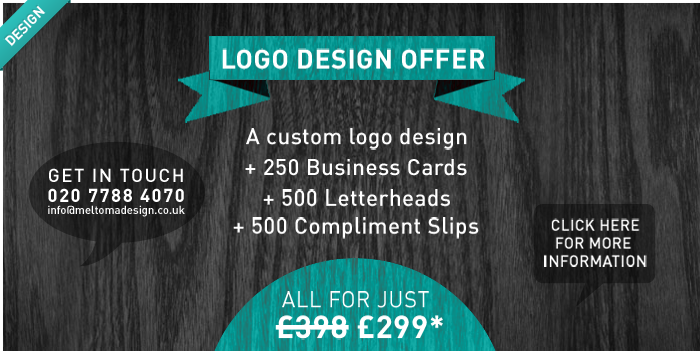 Getting a simple effective and memorable corporate identity that can grow with you is key and here in Camden our designers will help you do just that. We offer unique custom logo design and the follow on branding materials that will make sure you start off on the right foot.
There are three cost effective branding and logo design packages available below. With all three packages we are not only here to get you a logo that works we are also there after. Having a great logo is only the start and we can help apply it in a creative and professional way to web design and print materials such as business cards, stationery, flyers, posters, brochures and more!
[tab_group type="tab" style="unframed"]

A Complete Logo Design offers you the full package.
We will sit with you, get an idea of how you see your business and work out your likes and dislikes. From there we get online and research your competition and what design works best in your field. Once we're finished the first round of designing we deliver 8-10 concepts drawn up for you to consider. In the remaining revisions we will narrow down and finalise your logo design with you; exploring typographic options and colours ensuring that the end result is high impact and exactly where you want it to be.
This logo package offers the same benefits of a complete logo design but on a smaller scale.
With this option we will expect you to have done a bit of research and to provide us with a rough concept or layout of what you require. We will design 4-6 options based on the information supplied and again work on it with you in following revisions.
This one is all in the name. Aimed at people with an existing brand identity that is maybe looking a bit tired or dated.
Perhaps you love the logo but it's just not great quality and you need it designed in vector format for large scale reproduction? Whatever the reason we are here to give your logo a facelift. With a little nip and tuck, some focus on typography and what visual elements work within the existing designs, we can get your image rejuvenated and back on it's feet.
[/tab_group]